The mahogany came together to form a man's face. Well, in a Picasso sort of way.
Randell Henry wasn't specifically planning to create such a portrait, and even now, he'll advise you to zero in on it to see the face.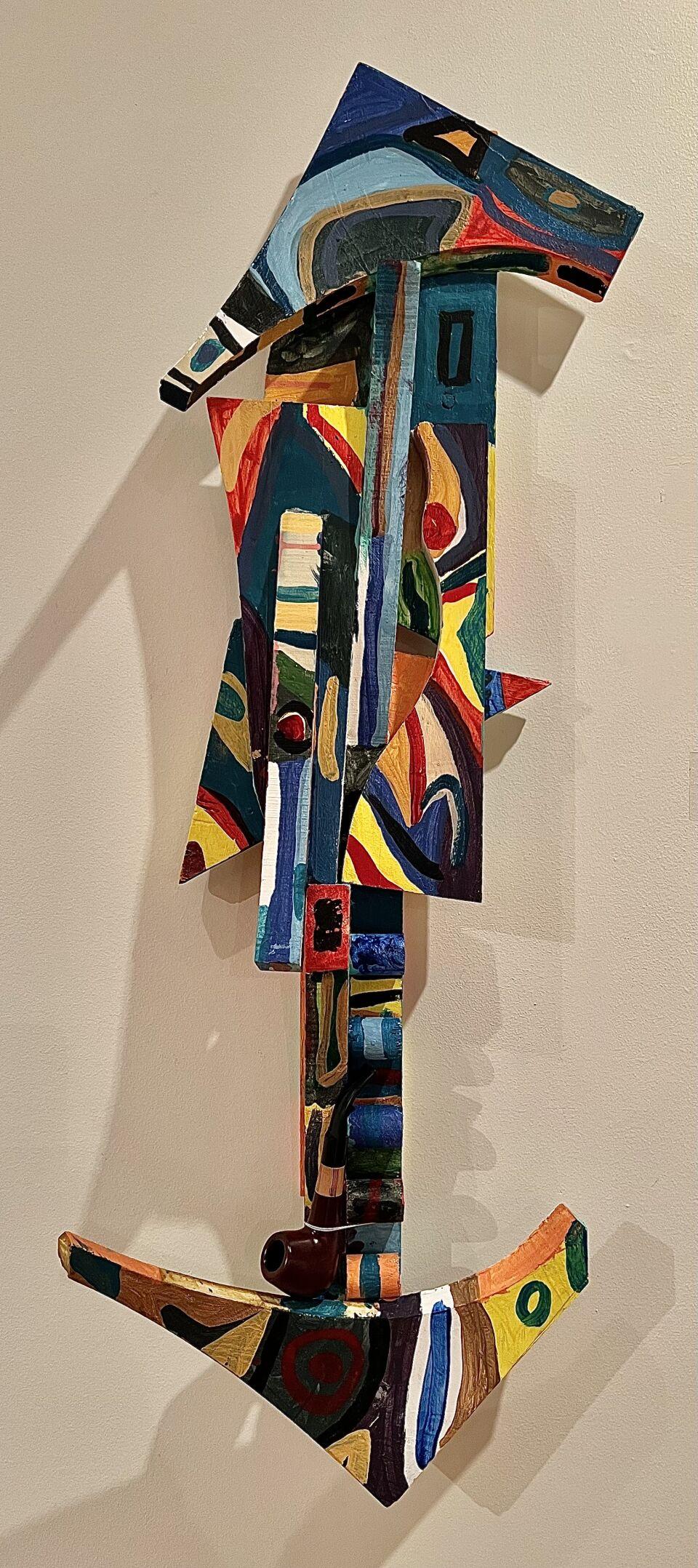 That is, the face of a man smoking a wooden pipe.
"When my art class came through here, one of my students stopped and looked at it, and said, 'So that's what you needed that pipe for,'" Henry said, laughing.
Henry, a professor of art in Southern University's Visual Arts Area, is also curator of the Visual Arts Faculty Show, "Selections," where hangs his sculptural piece, "Man with Pipe."
The show runs through Friday, April 8, in the Visual Arts Gallery in Frank Hayden Hall. Gallery hours are from 10 a.m. to 4 p.m. Monday through Friday. Admission is free. 
Henry stands in the gallery waiting for a group of students from a music appreciation class to fill the gallery for a tour. Their mission will be to choose two works, one they like, one they don't.
From there, they'll write essays comparing the pieces to the music genres they're exploring in class. And Henry is ready to help them out, first by pointing out how both visual artists and composers incorporate line and color into their work.
The Southern University Department of Visual Arts' 2022 Faculty Exhibition, "Selections," runs through April 8 in the college's Visual Arts Ga…
Take, for example, Henry's own pieces in the exhibit. He's known for his bright-colored collages and paintings, and in this show, his mahogany sculptural wall hangings.
His many colors usually express joy, and his tangled lines are reminiscent of the kind of improvisation found in jazz.
The mahogany, Henry said, was given to him by Alexandria-based artist Morris Taft Thomas. One of Thomas' metal sculptures can be found in Southern's Art Museum on campus, and its abstract style is similar to Henry's.
Look closely and you'll also see shades of Picasso in Henry's wooden faces, and his "Man with Pipe" steals the spotlight from his other works.
Maybe it's because the man's personality didn't fully emerge until Henry added the pipe.
Henry tells the music students a story about how the man seemed to be missing something. He looked like he should be smoking a pipe, but not just any pipe, but something authentic.
It had to be an old-style, wooden pipe.
"I didn't want one of those plastic pipes," he said. "So, I asked my students if they knew where I could buy a wooden pipe. One of them told me about a gas station that sold them, so I went."
There, Henry found not one but lots of wooden pipes from which to choose. But it wasn't until his students toured the show that the pipe made sense to them.
"It's all a part of the artist's process," he said.
But it doesn't stop there. Though the show's other faculty artists aren't standing in the gallery, their work speaks volumes.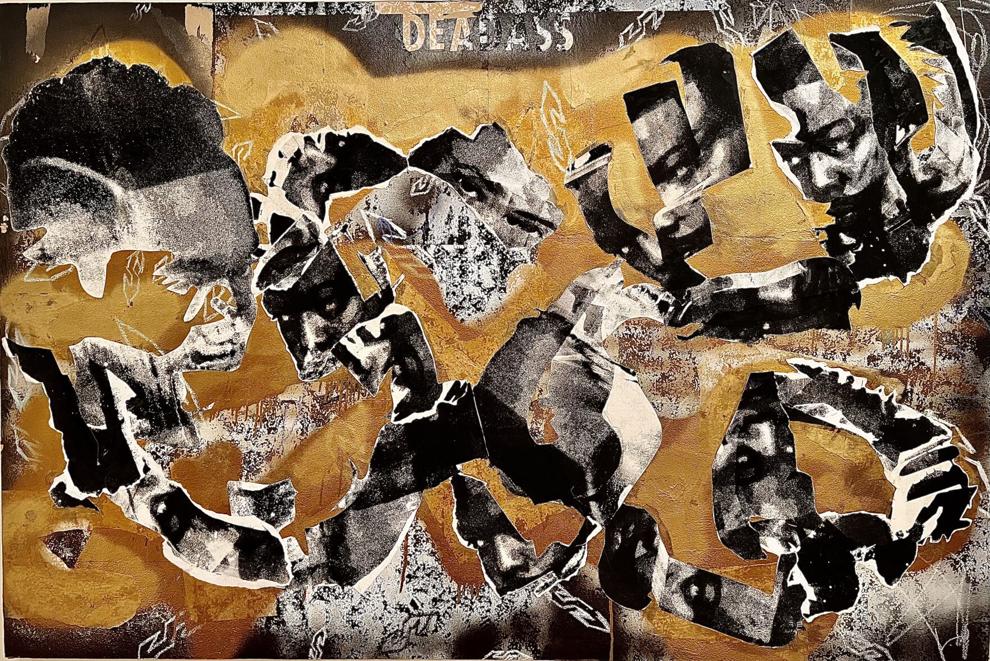 Visual Arts Area Chair John Alleyne looks at the lives of young Black men through a series of mixed media pieces. The work incorporates torn pieces of his silkscreens featuring monochromatic portraits.
Once torn, the viewer sees fragments of their lives. Their hairstyles serve as the common thread connecting their stories.
Then there's faculty member Clare Samani's work exploring ideas of femininity.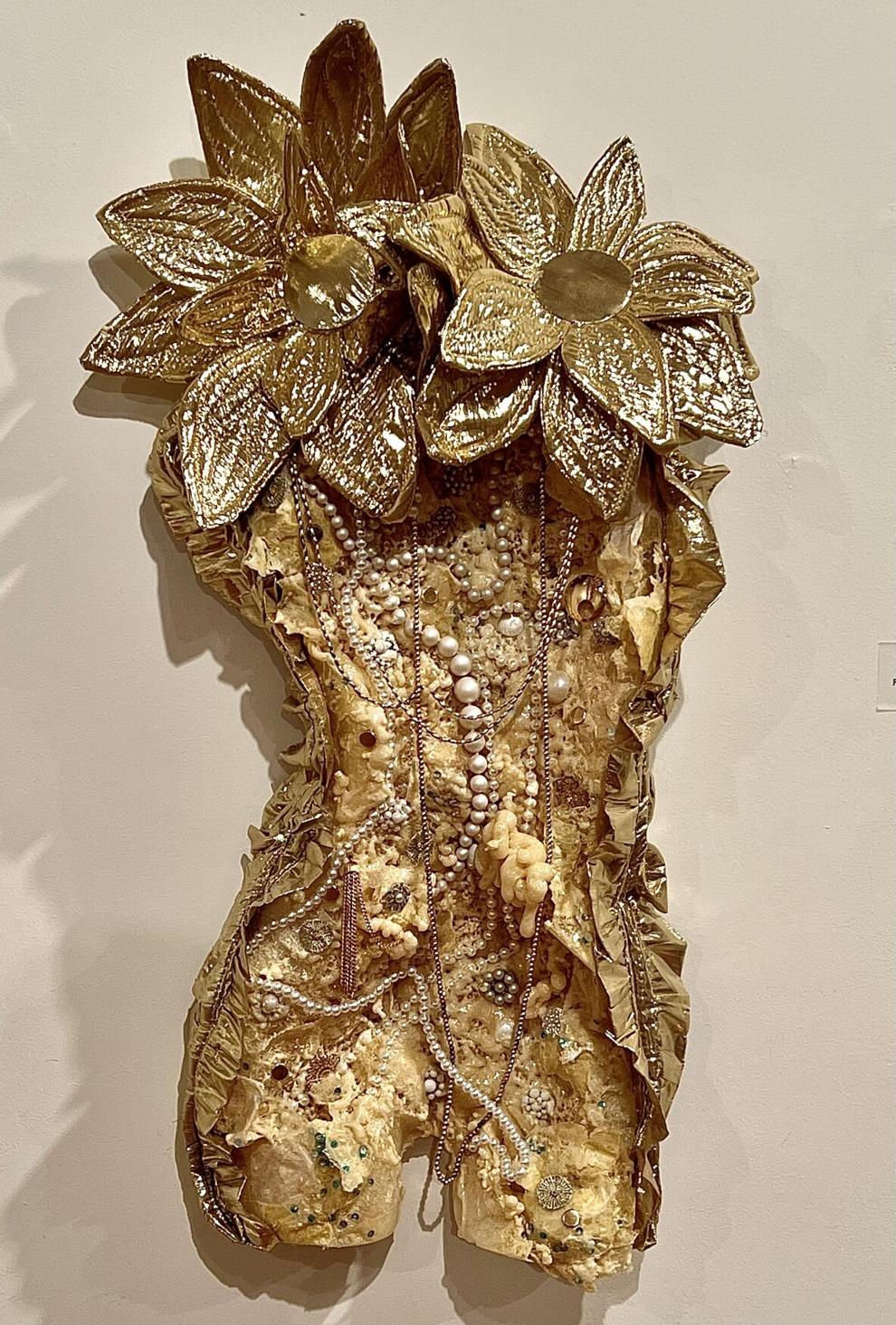 "She works with soft and shiny textiles and objects," Henry said. "And she uses these things to show how we see femininity in different ways."
And like Alleyne's fragments of young Black men's lives, Samani's mixed media work looks at femininity in bits and pieces. There's a gold-covered abdomen here and a flowered-covered leg there, but never a full body.
Meanwhile, Jabed Rashel's works shift the scene to everyday life.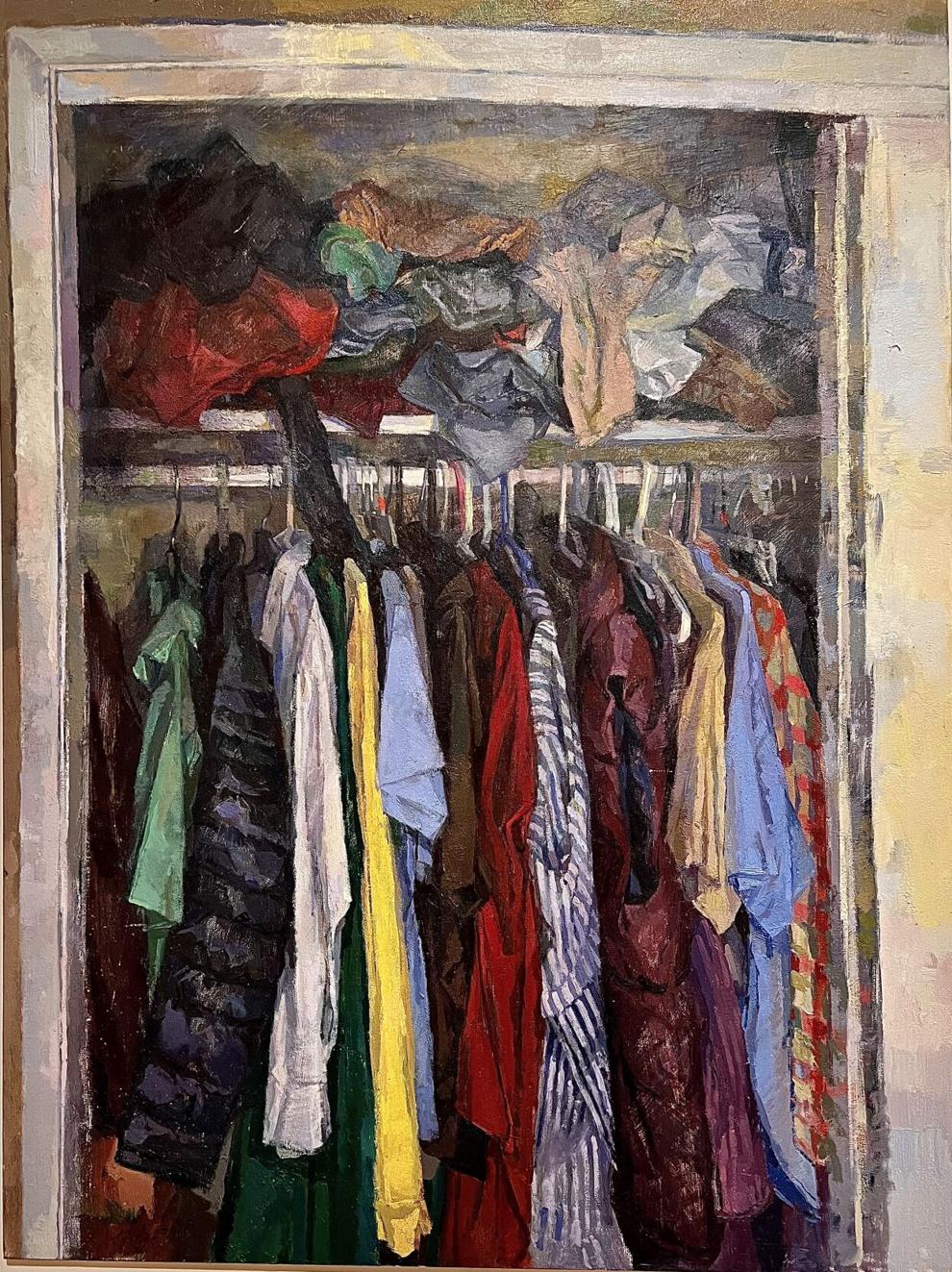 His still-life paintings of objects on a coffee table dominate his work. He deconstructs them in the cubism genre, then reconstructs them in a realist style.
Yet his most notable painting, "ROYBIGV BOX," showing a clothes-filled closet, makes the unnoticed noticeable through color and composition.
Finally, Samantha Combs rounds out the exhibition with her works made of homemade soap, hair, pages of self-help books and metal.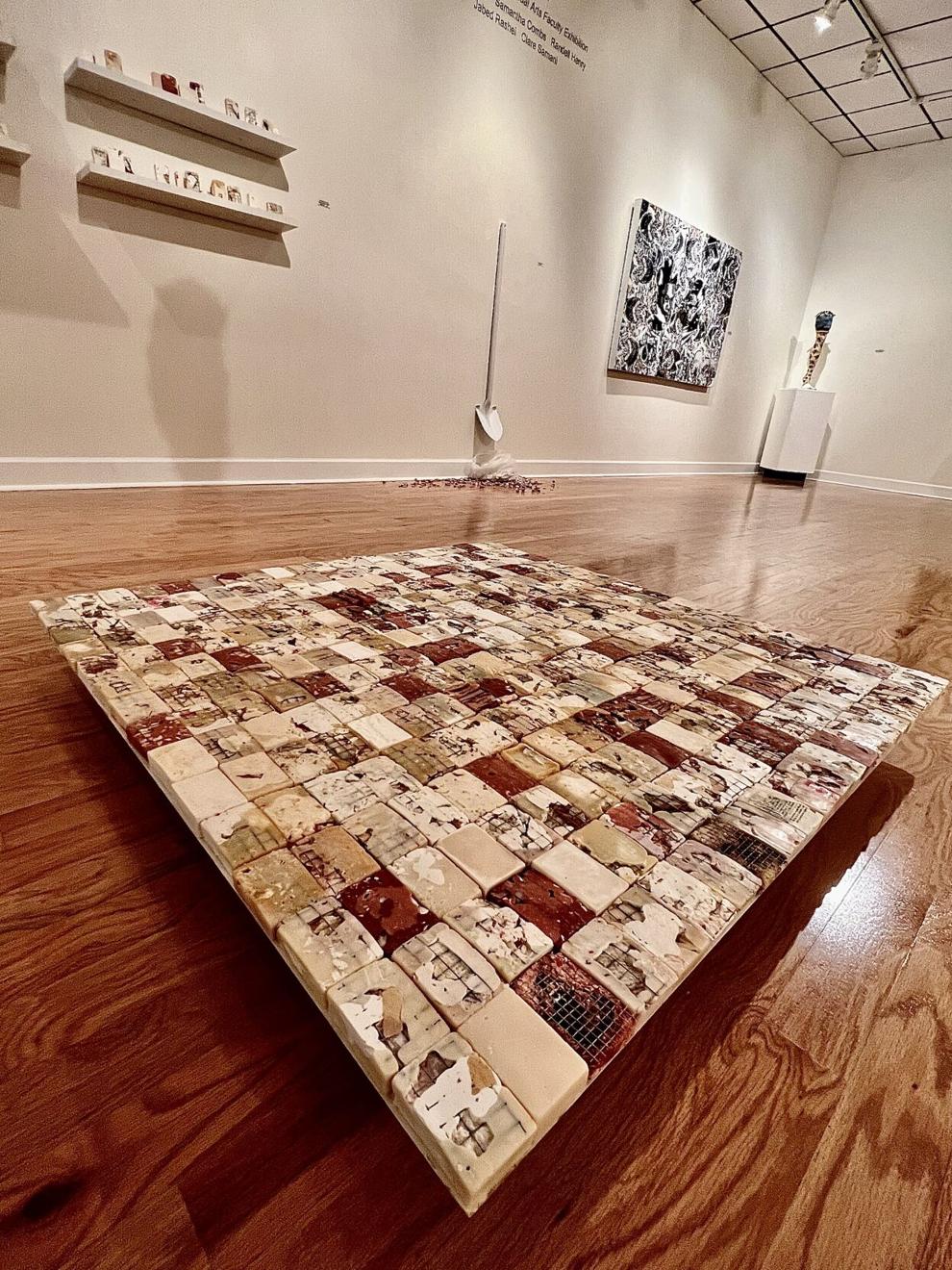 Are her works a comment on cleaning up your life? Or are they an exploration of how messy life can become? Does the metal in her work represent self-imposed boundaries? 
"The artists make you really think about their work," Henry tells the students. "Each person might take away something different from this work."
The students take this as their cue, scattering throughout the gallery to form their own perspectives.
While Henry's "Man with Pipe" watches them. 
For more information, call (225) 771-4109 or email [email protected] or [email protected].