Every Sunday, we bring together a collection of easy-reading articles from analytical to how-to to photo features in no particular order that did not make our regular daily coverage. Enjoy!
---
'People Arrived for Work and Got Vaporised': How Kikuji Kawada Captured the Trauma of Hiroshima – The Guardian
Photographer Kikuji Kawada was 25 when he visited Hiroshima in 1958 for the first time. He was drawn to the ruined shell of a once decorative steel-framed building that was still standing despite being severely damaged when America dropped the first atomic bomb on the city at 8.15 am on 6 August 1945, obliterating everything else within a mile radius.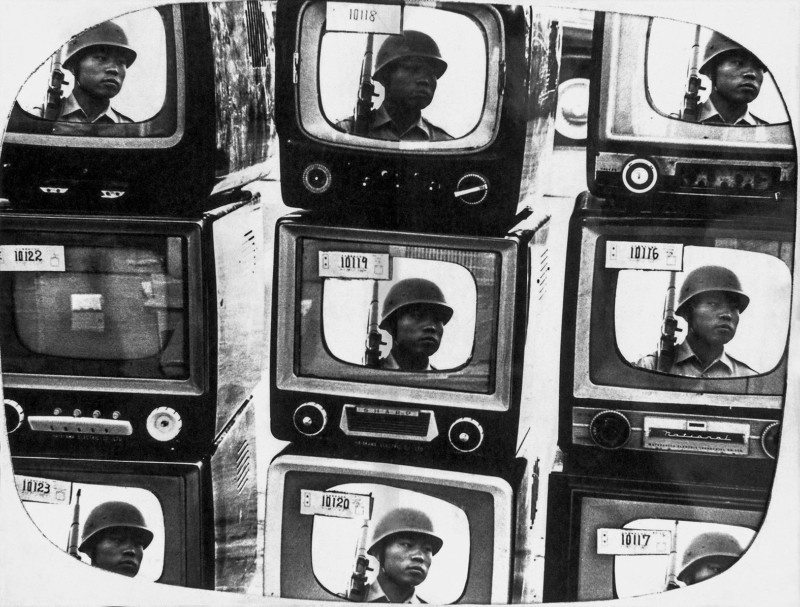 "Haunted by what he had seen, Kawada later returned to Hiroshima with a large format 4×5 plate camera and, using only the natural light coming through the shattered dome overhead, photographed the eerie shapes on what is now known as the Genbaku (A-Bomb) Dome, a memorial to the victims of the bombing," writes The Guardian. "The 'stain' photographs, as they have come to be known, are the emotional and conceptual dark heart of Kawada's book, Chizu (The Map), which was first published in an edition of 500 in 1965.
"It is," says the British photographer Martin Parr, "the holy grail of Japanese photobooks.
"When the place was destroyed," he told Aperture magazine in 2015, "there were about 30 people (who) had arrived for work and ended up vaporized."
Kawada's Chizu took five years to create and has resold for up to £25,000 (~$33,500) a copy. Now a new edition revisits his personal archeology of a nation's pain.
Chizu (Maquette Edition) is published by Mack.
Also, Kikuji Kawada on the Traumas of History and the Skies above Japan — Aperture
---
The Stories Behind 5 of David Hume Kennerly's Iconic Images – Digital Photo Pro
Embed from Getty Images
Pulitzer Prize-winning photojournalist
and
Canon Explorer of Light
David Hume Kennerly
 shares the stories behind five of his powerful photos.
Kennerly writes in DPP:
The Hug (above) was taken at the dedication of the National Museum of African American History and Culture in 2016 when First Lady Michelle Obama hugged former President George W. Bush.

I immediately knew that the embrace was important. If I had taken it a fraction of a second before, after, or standing a foot in either direction, I would have missed the moment. Another key element was Bush having his eyes closed for that magic instant, and it helped make the photo something special. The picture went viral as soon as I posted it online…

Here you see an African American woman hugging a white man. A Democrat hugging a Republican…

This image is the non-political and bi-partisan manifestation of people of all colors, sizes, shapes, and political parties getting together to celebrate the opening of the NMAAHC…I made this frame with the Canon EOS 5DS R using the Canon EF 100-400mm lens at 400mm.
Also, on Kennerly's blog Uncropped: The Story Behind "The Hug" Photo
---
Announcing the Winners of the 2021 PhotoBook Awards –– Aperture
Paris Photo and Aperture Foundation have announced the 2021 Paris Photo–Aperture Foundation PhotoBook Awards winners. From the thirty-five shortlisted, a final jury in Paris selected this year's winners.
---
8 Wedding Photography Trends That Will Come into Focus in 2022 — Vogue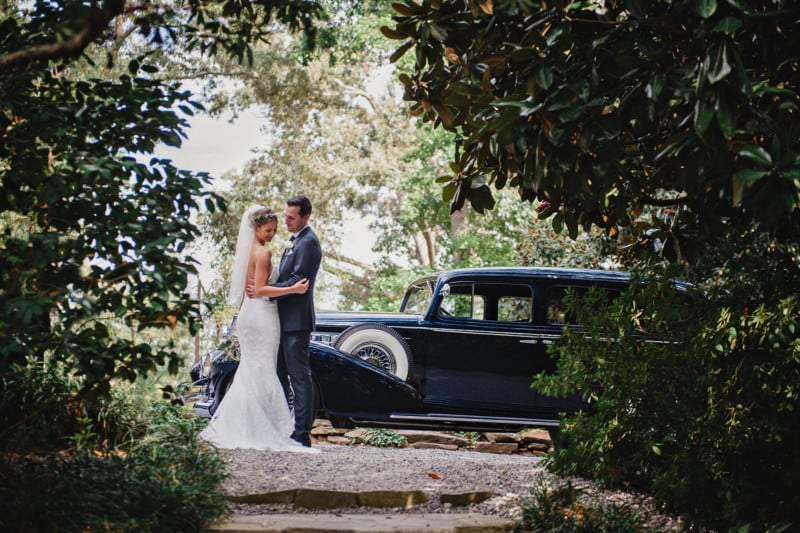 Wedding clients are no longer interested in the overly formal photos of the past and campy studio shots that were preferred in the '80s. Today's couples are more interested in bridal imagery that's thoughtfully composed and authentic.
Click on the link above to discover what wedding photographers will be capturing as we head into 2022, from portrait styles and lighting to popular props and color schemes.
---
Forced From Home: the Humans and Animals Under Threat – in Pictures – The Guardian
Nick Brandt visited five animal sanctuaries in Africa to portray the people displaced by droughts and the creatures whose very existence is under threat.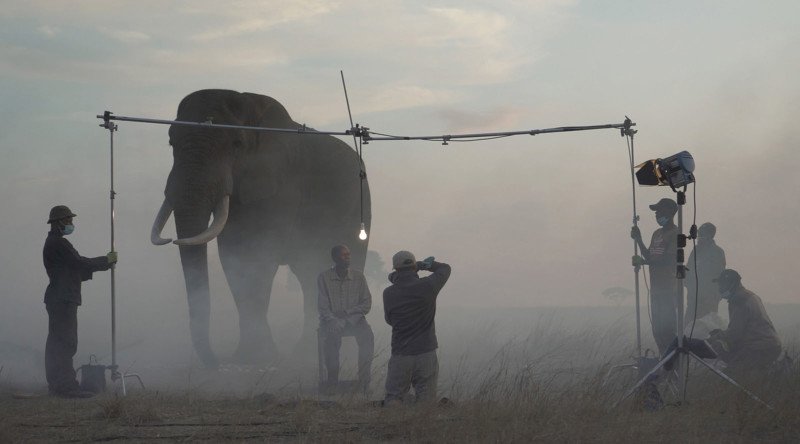 Brandt writes in the introduction:
The animals there are almost all long-term rescues because of everything from poaching of their parents, to habitat destruction, to poisoning.

These animals can never be released back into the wild, as they would not survive. With their lives now spent within the sanctuaries, they have become habituated to humans. As a result, it was safe for human strangers to be close to the animals, photographed, crucially, in the same frame at the same time.

The fog [which was created by water-based non-toxic fog machines on location] is the unifying visual, symbolically causing a once-recognizable world to fade from view…

I'm stating the obvious, but it needs to keep being repeated: that in destroying nature, we will also ultimately destroy ourselves. A healthy natural world is essential for the well-being of all humanity.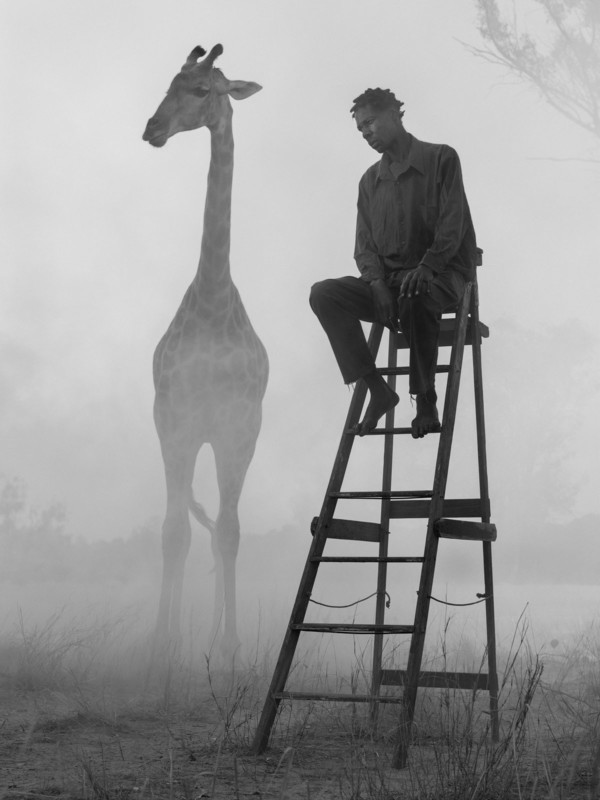 The Day May Break by Nick Brandt is published by Hatje Cantz
---
The Surprising True Story of Kodak Aerochrome and Photographer Richard Mosse's Images and Film of the Congolese War
Read also:
The Enclave: A Powerful Documentary on The Congo Shot Entirely on Infrared Film
Unique Photos of Eastern Congo Made Using Infrared Film
---
Picasso, Afghanistan and Me: the Wild Adventures of Fred Baldwin – in Pictures – The Guardian
"At 90, photographer Fred Baldwin still has 'so much work left to do'," writes James Estrin in The New York Times.
Fred Baldwin (b 1928), the celebrated American photographer and co-founder of FotoFest (Houston), took a turn in the direction of the extraordinary when during his last year of college in 1955, he decided to photograph Pablo Picasso. After a three-day siege outside Picasso's house in Cannes, France, the artist finally opened the door to Baldwin, who was allowed to take pictures freely in his studio.
After graduating from college, he would spend the next 20 years making remarkable picture stories about people and places, taking him to extreme adventure, and at times, great personal risk. His camera would become his passport to the world and provide the material and inspiration for Dear Mr. Picasso: An Illustrated Love Affair with Freedom, from Schilt Publishing, Netherlands.
The Klan work was a complete accident. He was setting out to try to do his first documentary project by photographing a tobacco auction in rural Georgia. However, he never got there because, on the way, he found a line of cars parked on the side of the highway being decorated with KKK slogans.
---
How to Use Diagonal Lines in Photography — ShotKit
You've probably heard that a diagonal line can give a sense of action or lead the viewer to different points in the image – while this is true, it's not always easy to implement this rule.
1.) Avoid connecting opposite corners
2.) Create depth with diagonal lines
3.) Use the Dutch angle
Check out the above link for eight more tips and full details.
---
These Photos Show the Timeless Appeal of Travel And Tourism — BuzzFeed
Under lockdown, travel photography fueled our jealousy, longing, and admiration. For travelers back in the 1800s, photographs were important in another way: "You might have gone to that place, but you couldn't take a picture of it, so you buy one to show people back home," said Jamie Allen, an associate curator at the George Eastman Museum in Rochester, New York, to BuzzFeed.
---
The Photo-Lab to Close After 107 Years in Downtown Schenectady, NY – Daily Gazette
---
Using a Teleconverter in Lunar Photography — Space
Embed from Getty Images
"All budding astrophotographers should consider using teleconverters in their camera set-up," recommends photographer
Jason Parnell-Brookes
in the article above.
---
How Architecture Depends on Photography
Stewart Hicks, an Associate Professor in the School of Architecture at the University of Illinois at Chicago, discusses the work of famous architectural photographers.
---
 19 Awesome Books on the Long History of Photography – My Modern Met
Check out this curated list of 20 titles that walk you through a photographic tour from daguerreotype to digital.
---
Joke of the Week
The old lady was walking to her local grocery store when she spots a youngster walking her dog.
"That's a cute puppy," she compliments the 12-year-old.
"That's nothing," says the young lady, "let me show you his photo on my iPhone."
---
Photo of the Week
Embed from Getty Images
Rusty wipes out during the annual Surf City Surf Dog event at Huntington Beach, California.
---
Quiz of the Week
1.) Which are the first and only two professional mirrorless cameras to have an integrated grip for vertical shooting.
2.) Which camera has a built-in flash trigger for firing Profoto flashes?
3.) For photos created in the United States, the copyright generally expires
a.) With the death of the person
b.) 70 years after the death
c.) It never expires, provided it is created after 1925 and registered with the US Copyright Office only during the lifetime of the photographer
d) 25 years after death for unregistered works
Answers
1.) Nikon Z9 and Canon EOS R3
Update on 11/14/21: The Olympus OM-D E-M1X is the first with an integrated vertical grip in a Micro Four Thirds format. Thanks, Brett Day.
2.) PhaseOne. Nikon has announced a partnership with lighting brands Nissin and Profoto, but no technical details are currently available.
3.) (b.) 70 years after the death.
---
Why I Like This Photo — Steve Jessmore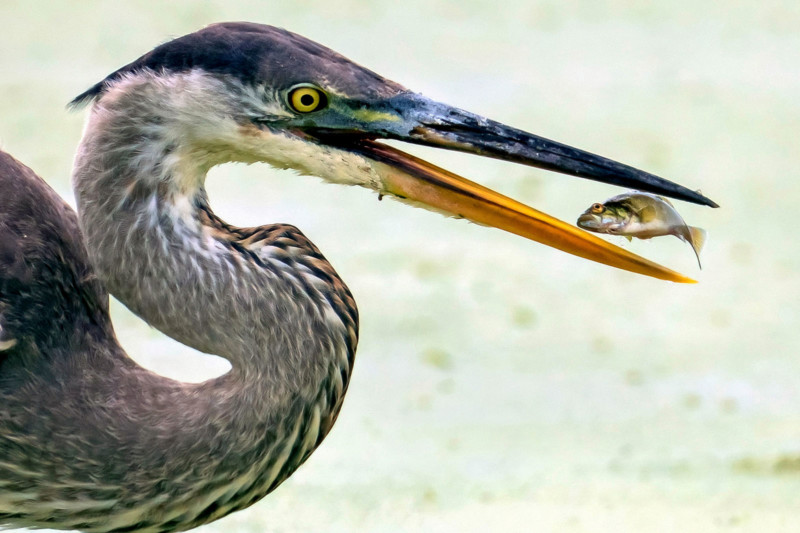 I came across this Great Blue Heron while walking on a boardwalk at Arcadia Marsh in northern Michigan. It was a midsummer afternoon in August of 2021. We had had a long day of travel, getting up before sunrise, and it was now 9 hours later. I watched the bird through my Sony a1 and Sony FE 600mm f4 GM OSS plus 1.4 converter, giving me a focal length of 840 mm. Patience paid off, and it wasn't 20-minutes later that it grabbed and flipped back and swallowed this fish.
My favorite wildlife photos tell stories and show behavior. I love this photo because of the moment and the story. The tight crop emphasizes a graphic composition with the s-curve neck and the beak. The circle of life contest between the hungry predator and prey freezes the moment of the fish perfectly centered as it is flipped in midair between the beak and swallowed whole. The gaze of both bird and fish makes the photo for me. One can see the almost "sad" look on the fish's face as if it realizes the inevitable.
There's an old saying about "a bird in the hand is worth two in the bush." My thought is to work with what you see and not go looking for something else you may find. Wait for something special to happen. I know a lot of photographers that I've shot with who just get a couple of shots quickly of whatever we come across and don't stop to try to tell a story. I love moments that give an insight into their behavior and life's pursuits.
Steve Jessmore is a five-time Michigan Press Photographer Association, Photographer of the Year. Jessmore left newspapers in 2013 for a new challenge–to be the photographer/photo editor for Central Michigan University. He is currently a freelance photographer in Grand Rapids, Michigan, using his 30-years of experience and focusing on storytelling, collaboration, branding and community journalism.
---
Quote of the Week — Nick Brandt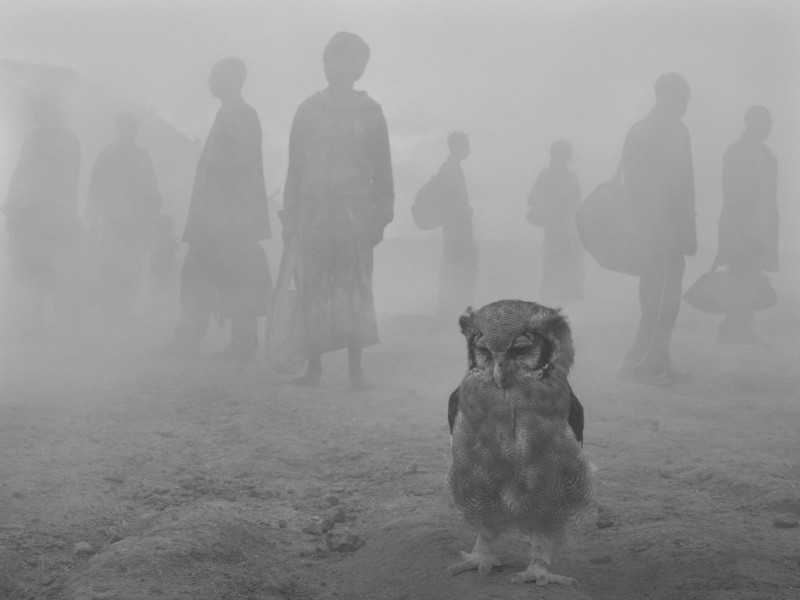 I want my images to achieve two things in this regard – to be an elegy to a world that is tragically vanishing, to make people see what beauty is disappearing. Also, to try and show that animals are sentient creatures equally as worthy of life as humans.* — Nick Brandt 
Nick Brandt (b. 1964) is an English photographer. Brandt's work generally focuses on the rapidly disappearing natural world because of environmental destruction, climate change and man's actions. While directing Earth Song, a music video for Michael Jackson in Tanzania in 1995, Brandt fell in love with the animals and land of East Africa.
---
To see an archive of past issues of Great Reads in Photography, click here.
---
We welcome comments as well as suggestions. As we cannot possibly cover each and every source, if you see something interesting in your reading or local newspaper anywhere in the world, kindly forward the link to us here. ALL messages will be personally acknowledged.
---
About the author: Phil Mistry is a photographer and teacher based in Atlanta, GA. He started one of the first digital camera classes in New York City at The International Center of Photography in the 90s. He was the director and teacher for Sony/Popular Photography magazine's Digital Days Workshops. You can reach him via email here.
---
Image credits: All photographs as credited and used with permission from the photographers or agencies. Portions of header photo via Depositphotos, car in Reidsville, GA, Fred Baldwin, photo courtesy Schilt Publishing, A History of Photography From 1839 to the Present published by Taschen and tourists at cliff dwellings in Mesa Verde National Park from Library of Congress.