Also, Cedar Rapids adopts zoning changes that support reforestation to encourage more tree plantings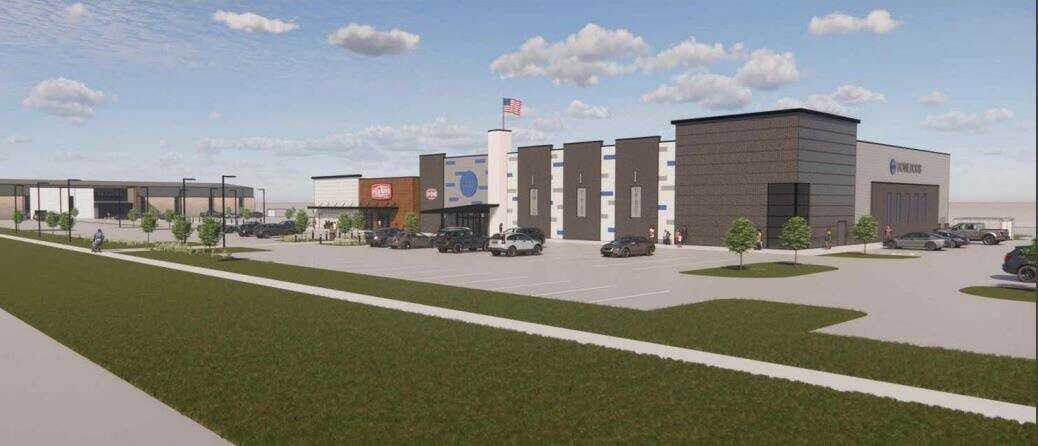 North Liberty approves site plan for Solomon's Landing 'entertainment district'
The North Liberty City Council last week unanimously approved a preliminary site plan for the Solomon's Landing development — a $20 million project that seeks to create an "entertainment district" just north of Penn Street.
The proposed development, from Brandon Pratt of Lion Development Group, includes a 34,358-square-foot indoor recreation building, as well as a 33,528-square-foot bowling entertainment center with an adjacent Pizza Ranch restaurant.
The recreation building — called The Palestra — will be used for various indoor sports and community events. The entertainment facility would include bowling, ax throwing, arcade, billiards and a bar.
The entertainment facility and Pizza Ranch will have televisions with live feeds of the games at the recreation center, so families can have meals and drinks, but still be able to watch other teams competing.
Rendering of the 34,358-square foot indoor recreation building — called The Palestra — part of the Solomon's Landing project in North Liberty. (Rendering from North Liberty City Council agenda)
The project sits at the northwest corner of Penn Street and Jones Boulevard and extends west to Saratoga Place. The parcels of land are owned by Pratt Real Estate Management Inc.
Pratt presented the project to the city council earlier this year in January to see if there was interest from the city in moving forward. Pratt said the proposal would generate $30-40 million of annual spending within North Liberty.
"To make Solomon's Landing entertainment district a reality, we need city assistance and involvement," Pratt said in January.
City staff worked through several rounds of design changes for the "larger-scale commercial development" to "ensure a high-quality development," City Administrator Ryan Heiar said in a city memo.
Staff is working with the developer to evaluate city incentives for the project and will likely present a recommendation to the council "in the near future," Heiar said.
Iowa City earns highest credit rating for 50 consecutive years
The city of Iowa City has yet again received the highest credit rating possible from Moody's Investors Service, the city announced in a news release last week.
For the 50th straight year, Iowa City received an Aaa bond rating for its outstanding general obligation debt. The city has maintained an AAA rating since November 1973.
"The top tier AAA rating ranks Iowa City among the most financially stable cities in the state of Iowa and the nation," the city said in the release.
The Moody's rating is used by banking authorities and investors to evaluate potential risk of loans, bonds and other financial transactions with municipalities and other government entities, the release explained.
A top rating represents the least amount of risk to investors. It also means financial savings for taxpayers in Iowa City because of the lower interest rates on loans for municipal projects.
Cedar Rapids adopts zoning changes that support reforestation
The Cedar Rapids City Council last week approved zoning code changes that look to encourage more trees to be planted to replace the thousands lost in the 2020 derecho's ferocious winds.
Planner Haley Sevening said the recommendations came directly from the ReLeaf plan, the city's public-private partnership with nonprofit Trees Forever to replenish Cedar Rapids' urban forest and plant about 42,000 native trees in 10 years on public property.
One change reduced tree spacing requirements from 40 feet to 30 feet for large shade trees and to 20 feet for small ornamental trees on public rights of way.
For parking lots with more than 20 parking spaces, the city will now require one large shade tree be provided for every five parking spaces — a threshold that previously kicked in at 40 parking spaces. At least 20 percent of required trees shall be interior to the parking lot.
Parking rows greater than 20 spaces also require a landscape strip that meets certain standards, such as providing one large shade tree every 27 feet.
Additionally, the city has boosted the rate at which trees must be replaced if they are removed for development. Tree canopy removed from the site must be replaced at a rate of one tree of an at least 1.5 inch caliper per 1,000 square feet of canopy removed.
A permit must be obtained for permission to remove a healthy tree. Landscape plans should show an inventory of "significant trees," or a diameter at breast height of 10 inches or more.
If a tree dies within at least 10 years after the development of the site, it must be replaced.
Rezoning for commercial building on Coralville's west side gets first approval
The Coralville City Council last week unanimously approved the first consideration for rezoning land on the city's west side for a multi-tenant commercial building.
The vacant land is located off Highway 6, between Culligan of Coralville and Bachmeir Carpet One on Merchant Street, to the west of Costco.
Advantage Development of Iowa City is proposing a one-story, 9,900-square-foot retail building on the one-acre site. The address of the building would be 3408 Merchant St.
Construction would begin this spring and last through the fall, according to the site plan. Community development director Dave Johnson told The Gazette he does not know whether any tenants are lined up for the building.
The land is part of the city's west land use area master plan, which designates the land as corridor commercial. Corridor commercial uses are typically retail and general commercial located on collector and arterial streets, Johnson said in a council memo.
The rezoning and use is consistent with the master, Johnson said. The rezoning will have to be approved for a second and third time before it is final.
Coralville housing projects moving forward
The Coralville City Council last week approved site plans with next steps for the Coral Crossing and Forevergreen Heights housing projects.
The next addition to Coral Crossing — a housing development on the city's west side located north of Costco — includes a 36-unit multifamily residential building with 81 parking spaces. The 15,818-square-foot building proposed by Jajesska, LC of North Liberty will be on a 1.42-acre lot on Spring Rose Circle.
Community development director Dave Johnson said the building is a continuation of a housing development seen along the road and is part of a master plan the council approved in 2018.
Construction is anticipated to begin this spring and will last about a year, according to the site plan.
The council also approved the next phases and parts of the Forevergreen Heights project, a large residential development underway on the city's northeast side that will add about 1,000 residential units.
Rendering of a duplex part of the Forevergreen Heights development on Coralville's northeast side. (Rendering from Coralville City Council agenda)
The project was approved by the council in 2021. Council approved the development, general layout, density and general building types. The specifics of the project come in the site plans.
The council last week approved site plans that allow the development to move forward with:
170 single-family homes on a 59.77-acre site
26 duplexes for a total of 52 units on a 10.52-acre site
14 duplexes and eight fourplexes for a total of 60 units on a 13.95-acre site
Cedar Rapids schools announces appointments
The Cedar Rapids Community School District has announced four appointments at the Educational Leadership and Support Center.
Washington High School Principal Darius Ballard was named the district's chief of human resources effective July 1. Ballard, a former teacher and instructional coach at Jefferson High School, was Washington principal for three years.
"It is bittersweet to depart from Washington High School," Ballard said in a news release. "What we have accomplished is nothing short of amazing. (Washington High) will remain near and dear to my heart.
"I am overjoyed at the opportunity to make all of our staff feel more supported," Ballard said. "If there is a chance to get all 31 schools to feel the same way Washington does, we have to aim for it."
Another new hire is Sarah Kruse, who will serve as director of behavior supports beginning July 1. This role was created as part of a settlement agreement with the U.S. Department of Justice.
Kruse has been serving as interim director of behavior supports since September. She previously was the Individuals with Disabilities Education Act compliance and support manager and special education consultant at Grant Wood Area Education Agency.
"I am looking forward to being able to continue the work that has begun to improve our practices and processes in doing what is best for all kids," Kruse said in a news release. "We have a rare opportunity to have a system wide impact and the progress we have already seen is only the beginning of what is to come."
Another role created as part of the settlement with the U.S. Department of Justice is executive director of behavior supports, which will be filled by Sandy Schmitz starting July 1. Schmitz is currently serving as the director of special education in the Waterloo Community School District.
"I appreciate (Cedar Rapids schools) leaders view the settlement as an opportunity to wrap our arms around all students in Cedar Rapids particularly those with (Individualized Education Plans)," Schmitz said in a news release.
Also, Ryan Rydstrom has been named chief of staff and the school board's secretary. Rydstrom, who most recently served in the Cedar Rapids schools digital literacy department, is training with current board secretary Laurel Day, who is retiring June 30.
Government Notes is published Mondays and contains updates from area governmental bodies. Gazette reporters Marissa Payne, Izabela Zaluska and Grace King contribute.