Whether you're into card making, painting, drawing, needlepoint, or other crafts, having a dedicated craft room is not always possible. That can lead to something akin to a treasure hunt around your home as you search for where you stashed the needed supplies. And even if you do have a craft room, there are always bits and pieces of required supplies that seem to go missing at the most inconvenient time.
15 Must-Have Products to Keep Your Crafts Organized
The good news is that there are many budget-friendly products you can use to organize and store your needed supplies. Adopting one or more of these top-rated products saves you the time you would otherwise spend searching and the money you would pay to replace broken or missing items. As always, the prices listed may fluctuate over time.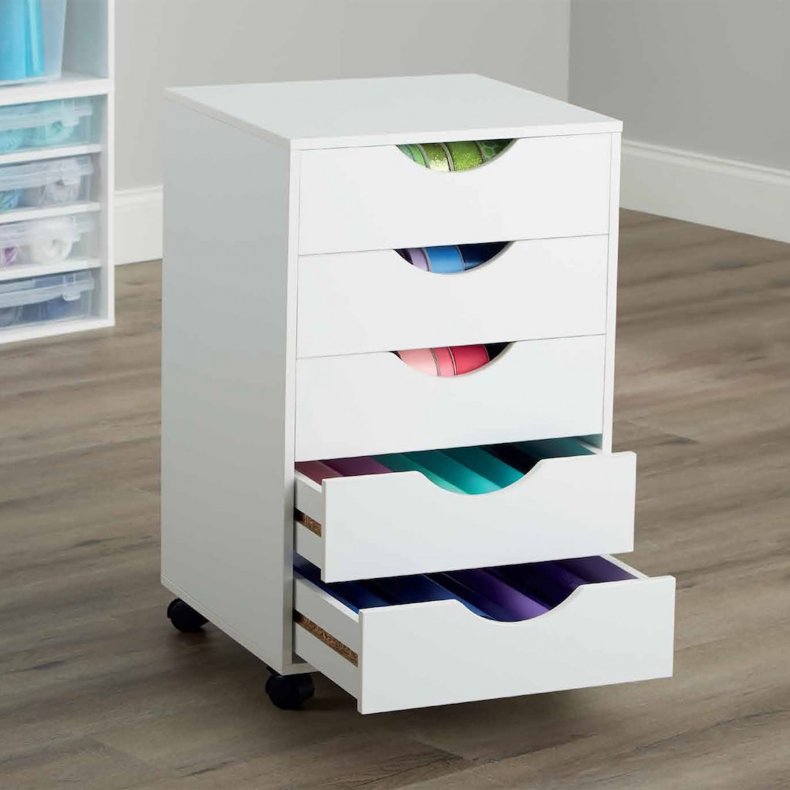 One of the key ways to organize your crafts is to adopt flexible storage, even if you have a craft room. Sometimes you may want to craft in the living room when the family is gathered around the TV. Other times, you may want to work outside on a patio or elsewhere. The Simply Tidy Module Mobile Chest is crafted of laminated particleboard and iron and measures 16 inches by 16 inches by 26 inches. The chest has five drawers and four wheels, so it is compact and mobile enough to fit in just about anywhere you need it. Locking casters on two wheels keep the white cart in place. Each drawer measures 14.8 inches by 14.25 inches by 4.5 inches, so there's plenty of room for paper, pens, card stock, clips, paints, stamps, beads and other needed craft supplies. It is pre-drilled to combine it with separately sold cubes and accessories.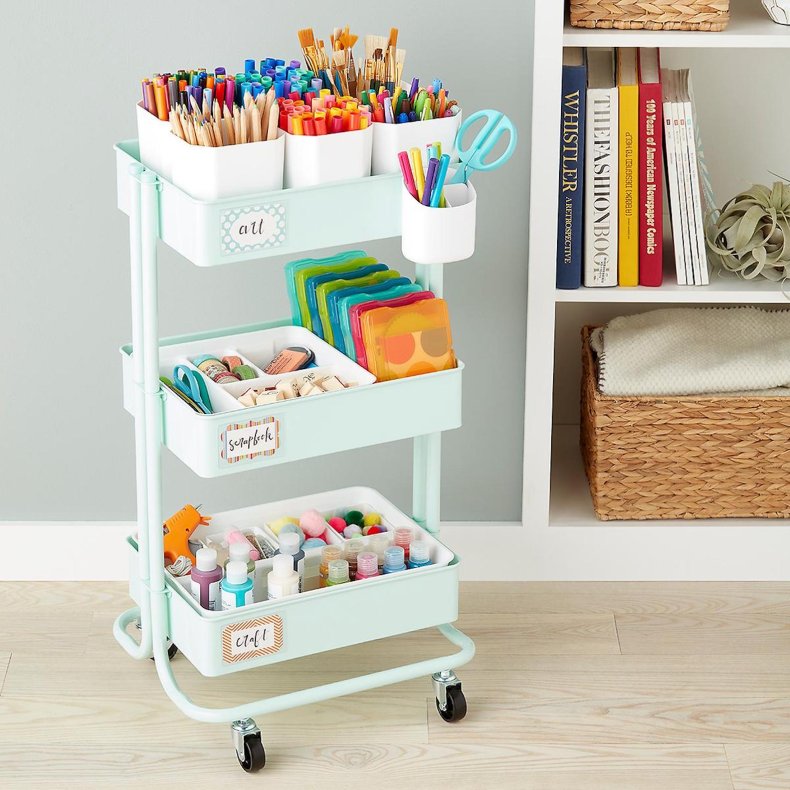 A great way to begin to organize your craft projects is to store them on The Container Store Arts and Crafts Storage Cart and Accessories. The cart measures 17 inches by 14 1/4 inches by 30 5/8 inches and comes with an array of specially sized containers, trays, cases and other accessories. It's a great way to organize pens, paints, scissors, paper and other craft items you want to keep at the ready.
Buy at The Container Store for $119.81.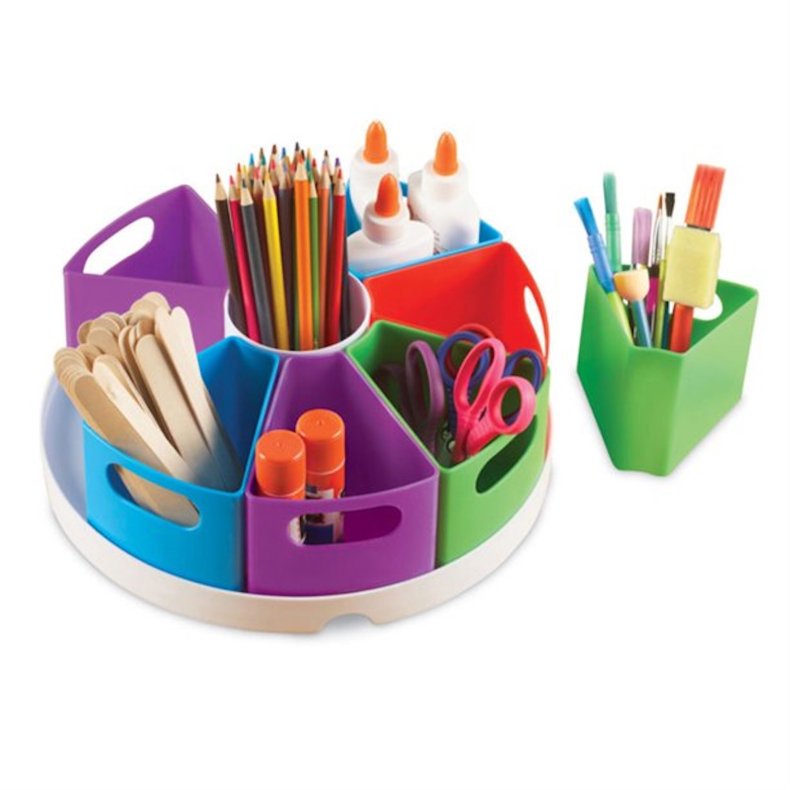 You may have used something akin to the Learning Resources Create-A-Space Storage Center for office supplies. This plastic storage caddy works in much the same way but its eight removable containers (each measure 4.5 inches by 4 inches) are designed for glue sticks, pencils, paint bottles and other craft supplies. You can remove the containers and clean them as needed, so you'll always have organized supplies in a fresh storage area.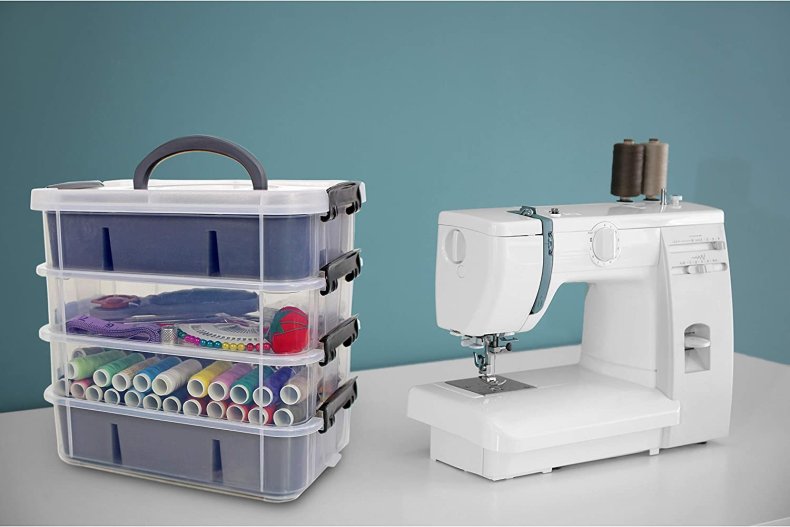 Crafters that work with small items––think sewers, greeting card creators, scrapbookers, bead artists––seem to constantly struggle to organize the small bits and pieces used in their crafts. Bins & Things Stackable Storage Container keeps everything organized. The clear containers allow you to see what they contain in three of the four tiers with 30 individual adjustable compartments. It measures 11.75 inches by 10.5 inches by 7 inches so it's easy to store when not in use.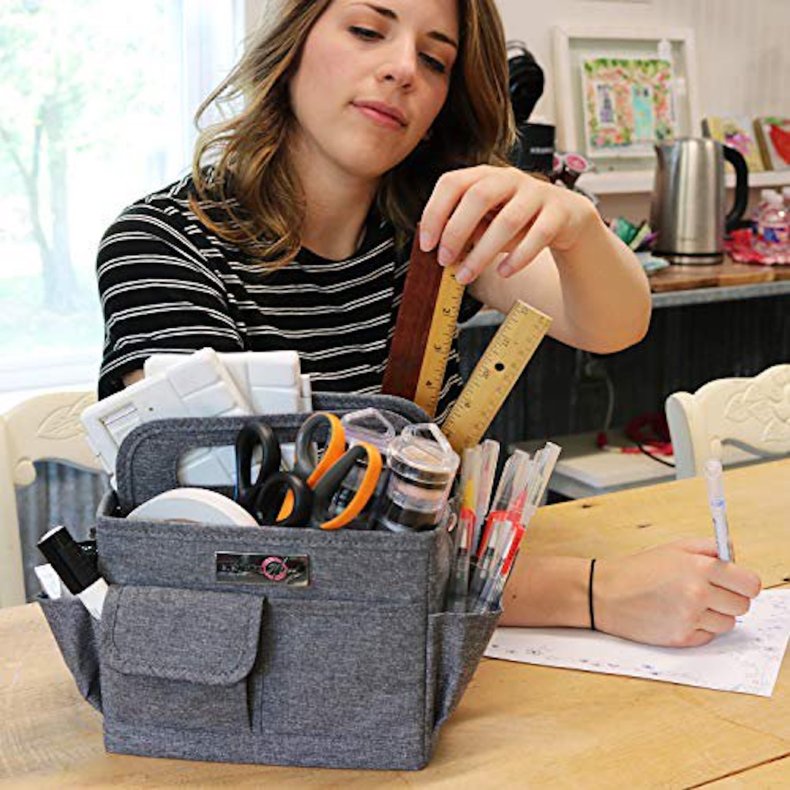 If you're a crafter who enjoys taking classes or working with other crafty friends, you know the struggle of finding and organizing all the needed supplies. And it's so disappointing when you realize you forgot to bring something! Everything Mary Storage Caddy for Crafts has 12 easy-to-access storage spaces within its 10.94-inch by 10.39-inch by 7.44-inch heather gray exterior. The caddy's size ensures you can slip it under a chair or place it on a table without taking much extra space. When it's not in use, collapse it for storage.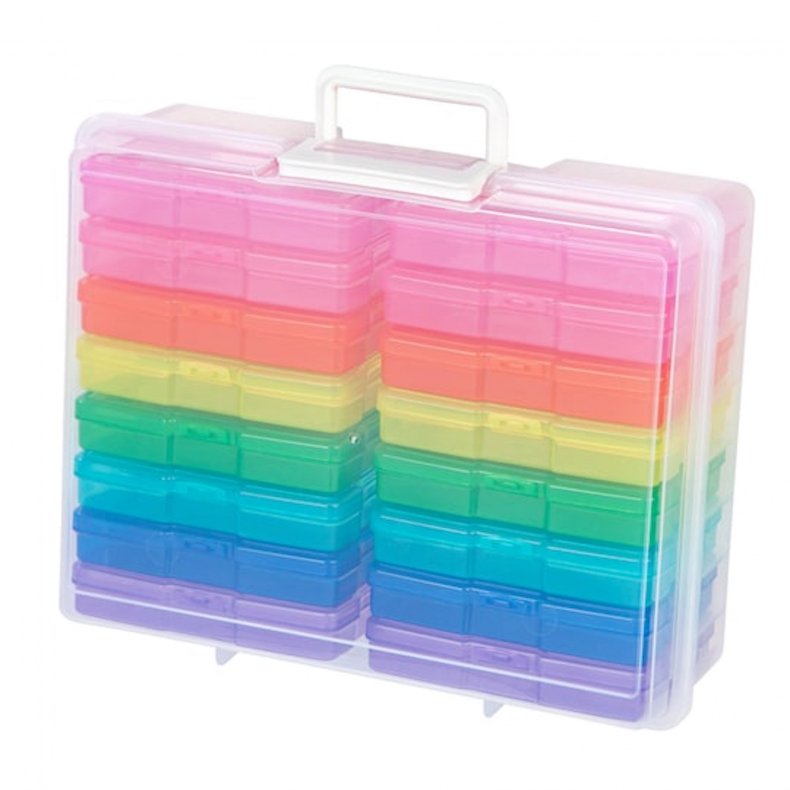 End the hunt for your craft supplies. Simply Tidy Rainbow Photo & Craft Keeper has 16 colorful cases so you can organize your craft supplies, photos, stamps, stickers, cards and other items by the color of the bin. Each interior case measures 7 inches by 5 inches by 1.2 inches and slips inside the 15-inch by 12-inch by 5-inch storage box. A snap-tight buckle keeps the contents secure.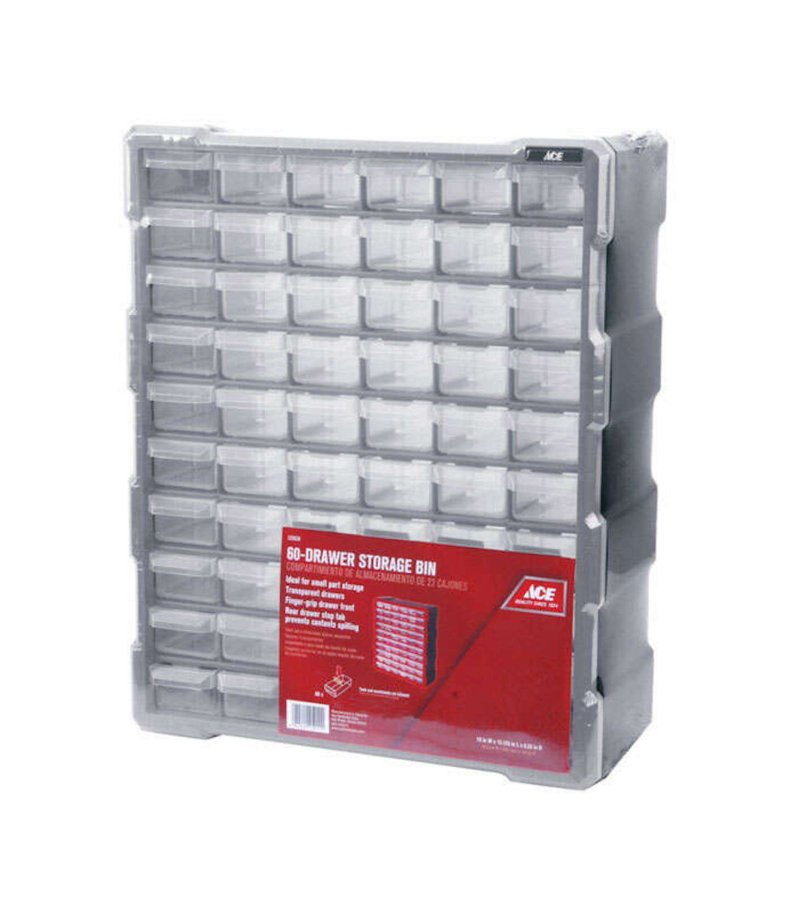 It can be a nightmare to store and organize beads, stamps, coins and other smaller craft and art items. The Ace 60-Drawer Storage Bin can help you keep those items sorted and at the ready. The 15 inch by 19-inch plastic organizer has 60 clear storage drawers, so you don't need to guess what's in each one.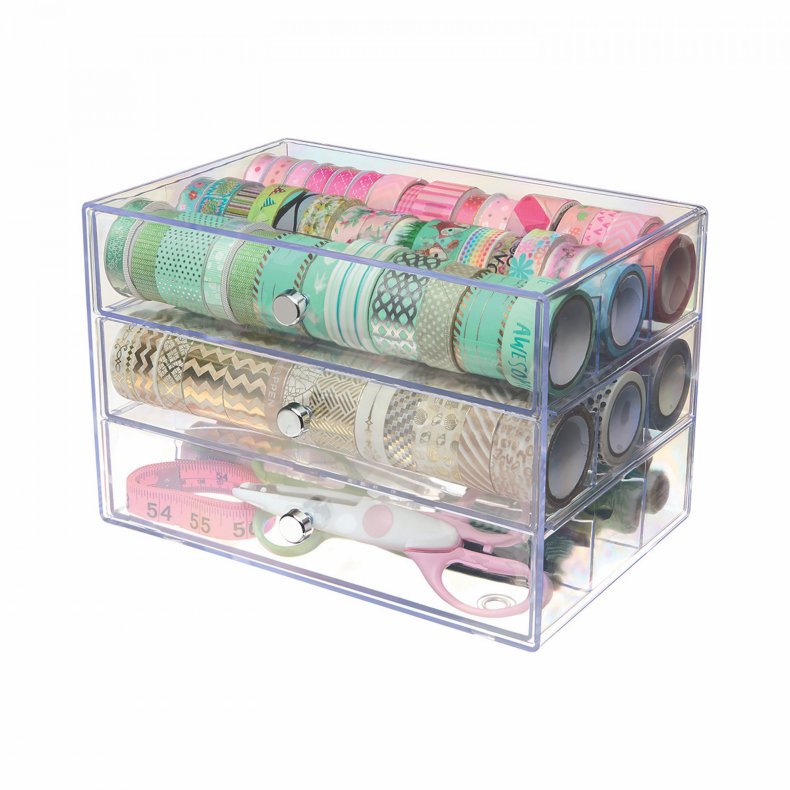 We think the Deflecto 3-Drawer Organizer will be a boon to all crafters especially cardmakers and needle pointers. It vertically holds round rolls of ribbon, stickers and lace in drawers that measure 9.5 inches by 2 inches by 1.78-inches, and they are plenty roomy for supplies of all types.
Buy at The Container Store for $22.99.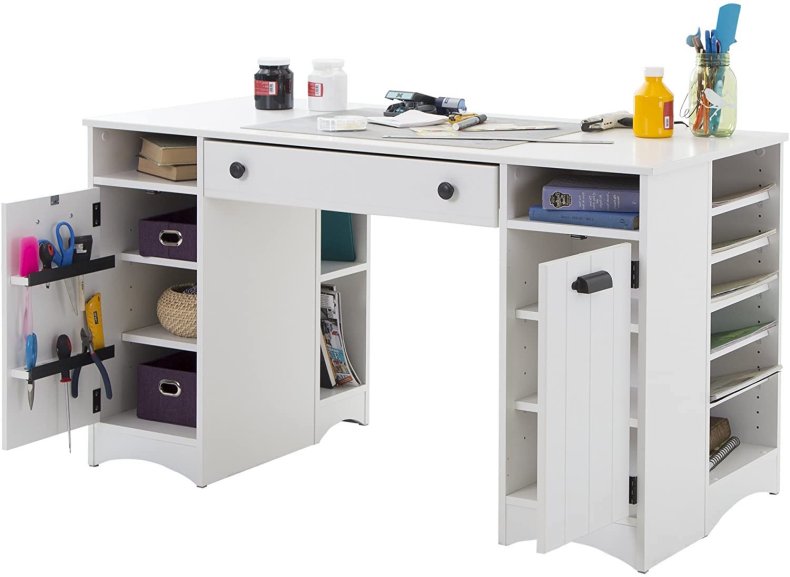 Those who want to take their craftwork to a new level shouldn't miss the South Shore Artwork Craft Table. The table measures a spacious 53 inches by 23 inches, so you can spread out your supplies and get down to work. Plus, you can arrange the two large cabinets (30 inches by 23.5 inches by 11 inches) to best suit your style. The pure white table also has a 22.75-inch by 13.25-inch by 3.25-inch center drawer for tape, paperclips and all those little extras.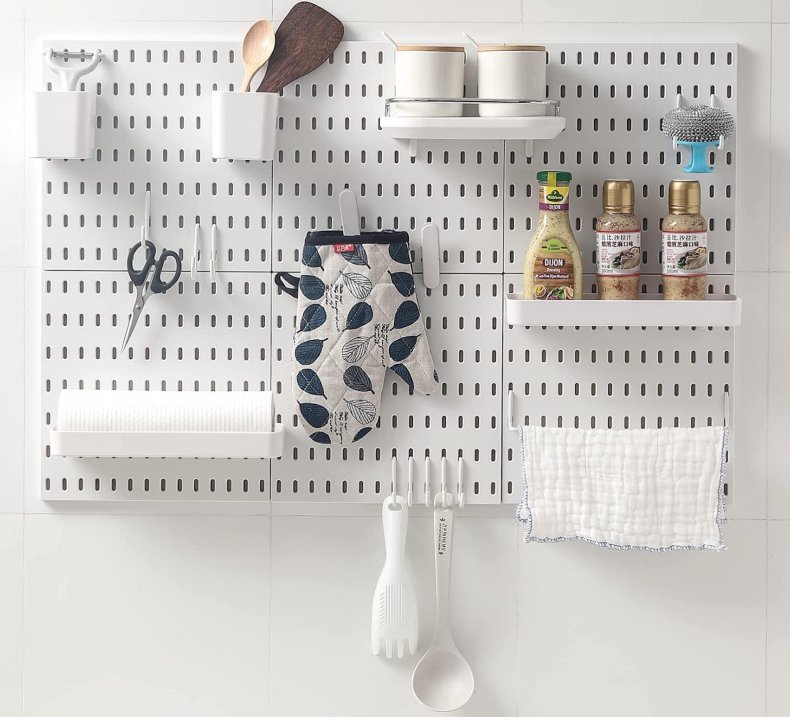 Take advantage of vertical space by organizing some of your craft items on the JoyBHole Pegboard Combination Kit. This pegboard, available in several sizes, is sturdy enough to hold up to 11 pounds of supplies if installed with nails. If you don't need that much holding power, you can mount it with the included stickers. Choose a black or white pegboard in the size that best suits you––22 inches by 11 inches, 22 inches by 22 inches or 22 inches by 33 inches.
11. Honey-Can-Do 12-Drawer Rolling Craft Cart Organizer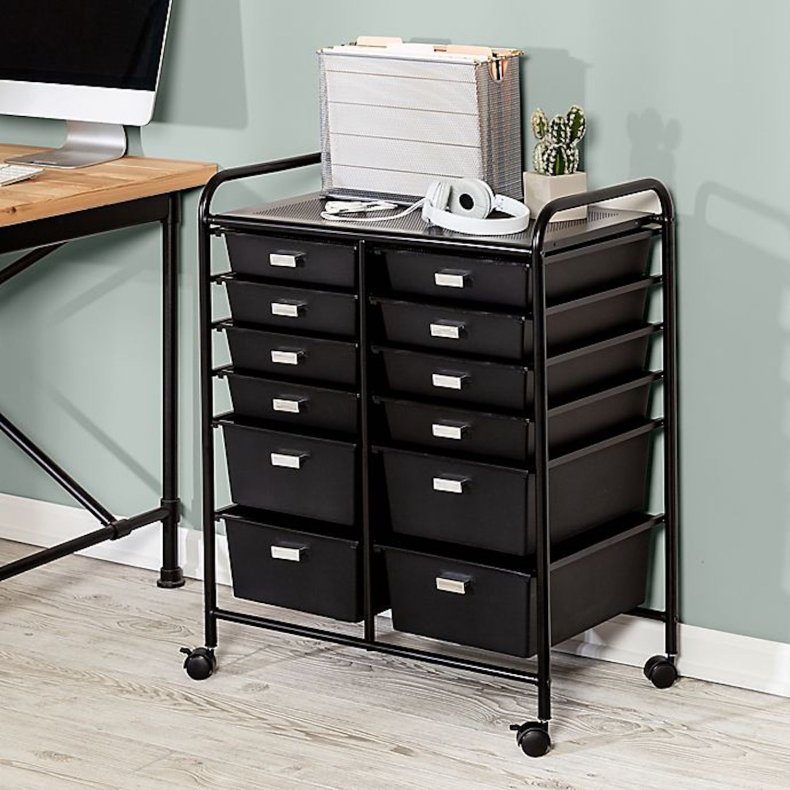 It's tough to keep your craft supplies organized when you don't exclusively work in one place. The Honey-Can-Do 12-Drawer Rolling Craft Cart Organizer sports four rolling casters with two locking wheels so you can move it wherever you want your supplies and know it will stay in place. The cart measures 16 inches by 13 inches by 33.5 inches, so it's slim enough to fit in modest spaces but can handle up to 55 pounds of supplies in its 12 drawers and top-shelf. The fabric drawers, laminated particleboard and plastic construction, combine to make the organizer durable.
Buy at Bed Bath & Beyond for $97.99.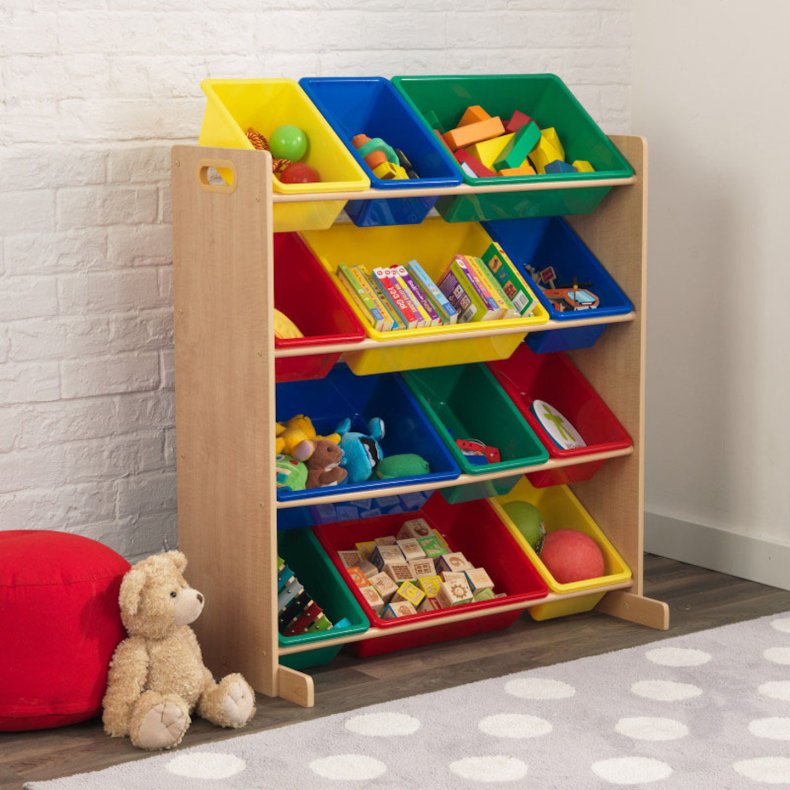 Organizing kids' craft supplies isn't quite as easy as it is with adult supplies. Kids' craft supplies are generally larger for several reasons, including kids' lack of manual dexterity. KidKraft Sort It and Store It Unit has 12 open plastic storage bins ideal for crafts and toys. It measures 32.8 inches by 18.75 inches by 39.75 inches (without the 12 bins). The bins are red, green and blue, so they look right at home in a child's room.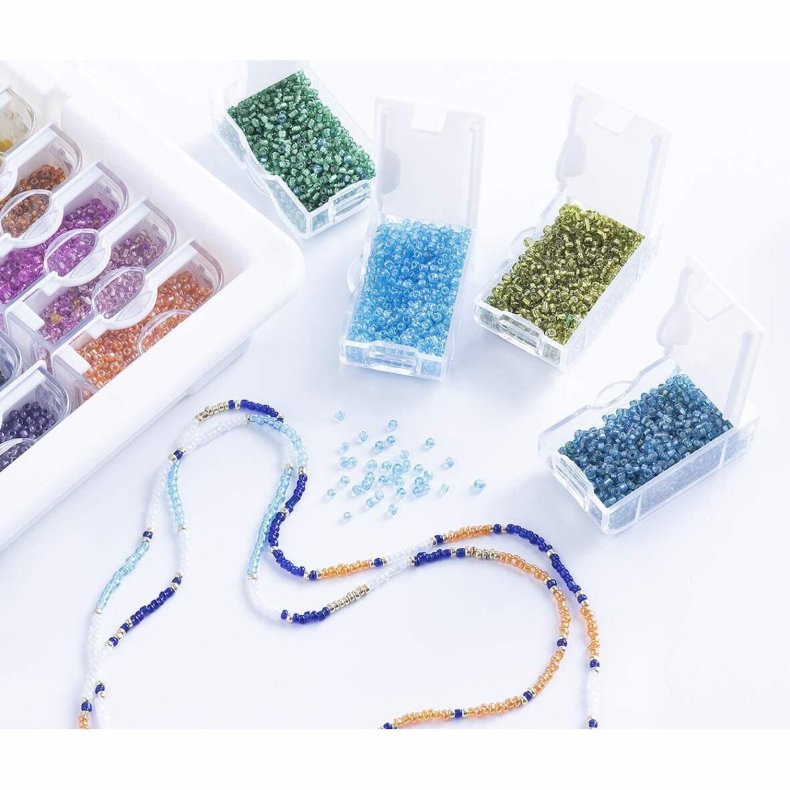 Beads, crystals, and other small craft items will find organized homes in the Bead Storage Plastic Craft Case Set. Each of the three .13-inch by 2-inch by 1.07-inch plastic containers has a snap closure so items stay secure. The containers are small enough to fit neatly into a tote and take to classes, craft shows and wherever else you need the supplies.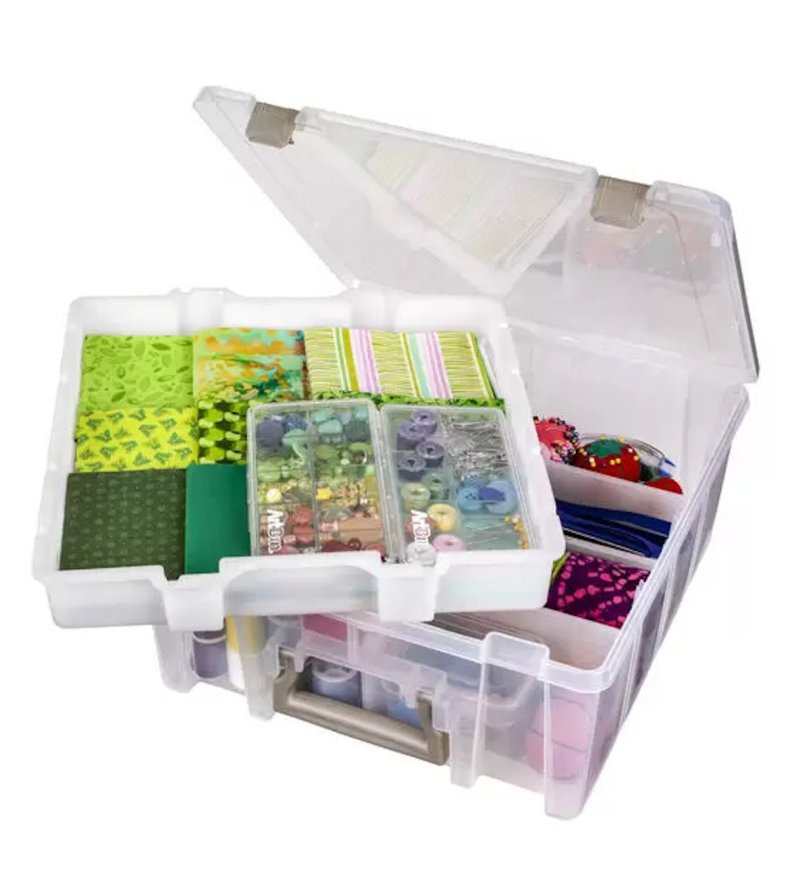 The ArtBin Double Deep Super Satchel with Removable Tray offers plenty of room for you to store your 12-inch by 12-inch projects. The double-decker design has a customizable, divided lower base. The whole container measures 15.25 inches by 14 inches by 6.25 inches so you can store it on a bookshelf or take it with you on your travels.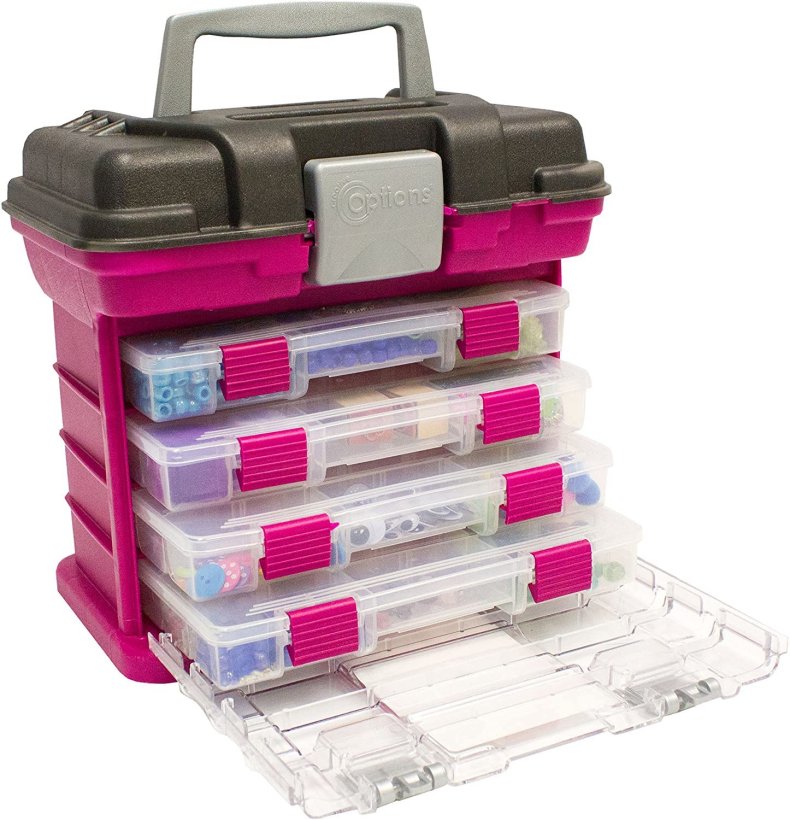 Whether you choose a small or medium Creative Options Grab 'N' Go Rack System you'll love its durability and security. It has a Dura View cover so you can see what's inside the plastic compartments before you pull the tray out. The small and medium units also feature a locking system that keeps everything securely inside. The handle is heavy-duty, too, so it won't break and spill the contents. Choose the size and color that works for you.
Newsweek may earn a commission from links on this page, but we only recommend products we back. We participate in various affiliate marketing programs, which means we may get paid commissions on editorially chosen products purchased through our links to retailer sites.